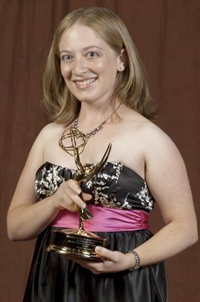 UPDATE: My team was one of two recipients of the 2010 Rocky Mountain Emmy Award in Investigative Reporting. See photo.
So, the Rocky Mountain chapter of the National Academy of Television Arts and Sciences had its annual parties to announce nominations for this year's Emmy Awards. Because I no longer live in the area, I wasn't able to attend; however, one of my friends kept a lookout for my name.
I am now a nominee for a 2010 Rocky Mountain Emmy Award in investigative reporting. I'm honored to be nominated as part of the team — Morgan, Z and David — that produced and reported the issues surrounding Maricopa County Sheriff Joe Arpaio.